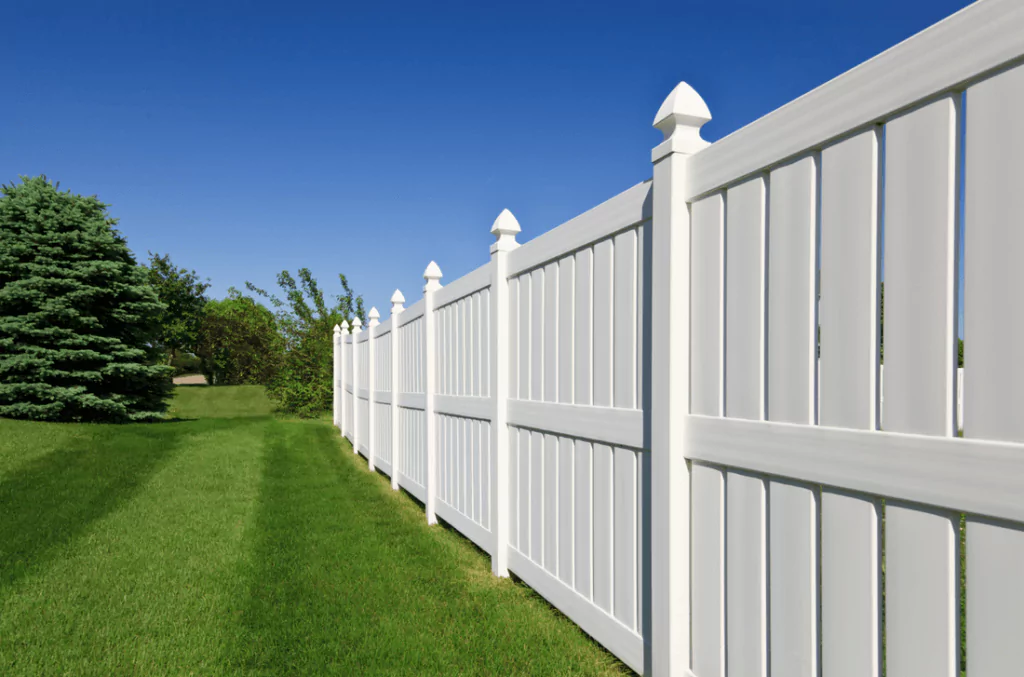 fence company WILMINGTON NC
Always FREE Estimates!
Years of Experience Installing Fences
Make Your Yard Your Personal Oasis
Residential Specialists
Residential Fencing in Wilmington, NC
Fences have always been a great way to personalize our backyards. You can add personal flair to your property, and they are great for providing that sense of privacy by keeping our activities from the curious eyes of neighbors. Backyard fences also protect your family and pets, and will improve your security by preventing easy access and trespassing into your property.
You might want a nice white picket fence for your front yard, but most people are currently wanting to create private space in their back yard. Usually about six feet tall, privacy fences are commonly made from vinyl or pressure-treated wood. Wooden is cheaper than vinyl to install, but you will spend far more on the maintenance over time. If well constructed and maintained, backyard fences can last more than 10 years.
If you aren't looking for privacy, we can still help you get that new yard or pool fence that you want. We work with multiple materials, and can also create custom designs. Let us know what your ideas are and what you want and you will be one step closer to having your new dream yard for your home.
There is so much to know when planning a fence installation. You need to know the pros and cons between materials like vinyl, wood, aluminum, and chain link for your project, and of course the cost difference between different types of fencing materials. Your budget will vary based upon the material you choose, the length of the fence, and the difficulty of the installation. Flat sandy ground is an easier install than sloping terrain and going around trees or other obstacles!
It's important to find a a company with experience and one that will build you a quality fence to compliment your home. We are experienced with all types and can offer a wide range of solutions. If you are ready to discuss your new project, contact us now.
Professional and Affordable Fence Installation in Wilmington NC With Excellent Customer Service & Support
Your Trusted Fencing Contractor in Wilmington NC
We specialize in residential new fence installation, drawing on years of experience building fences in the Cape Fear area.
Whether you have a big or small budget, we really aim to work with you to provide you with a new fence that makes you happy and your neighbors jealous. We offer different types of products that are sure to meet your needs and objectives. Don't hesitate to contact us to discuss your options.
We have learned how to be efficient with our work. We use the latest materials, techniques, and equipment, including jackhammers and small grading machinery when necessary to complete your new project.
Although we specialize in residential, we offer a range of professional services on commercial and municipal projects. If you have any commercial fencing needs in Wilmington NC contact us today for an estimate.
Our customers are our top priority. Our team of experts is dedicated to providing exceptional service. We work hard to make sure you are 100% satisfied with all of our services. We treat your property with respect and help make your property safe, secure, and beautiful. It is our mission to always deliver high quality and professional new fence installation services to New Hanover and Brunswick counties.
Vinyl Fence Wilmington NC
Vinyl privacy fences are very attractive and many homeowners love them. Vinyl is also called PVC. Vinyl offers some advantages over traditional wood fencing. It is more durable, resistant to weather, and requires minimal maintenance. Vinyl fences come in a variety of colors and styles, including picket, privacy, and custom designs.
Wood Fence Wilmington NC
Wood fencing is a popular choice among homeowners. It ranks high due to its natural look and durability. Wood fences come in a variety of colors and styles, including picket, privacy, and custom designs. With a range of styles and materials to choose from, wood fencing can be customized to fit the needs of any residential property.
Experienced Residential Fence Builders in Wilmington NC
Aluminum Fence Wilmington NC
Aluminum fencing is a great option for homeowners who want a durable, low-maintenance fence that provides both security and curb appeal. Aluminum fences come in a variety of styles and colors, so you can choose the one that compliments your home's exterior. Aluminum fencing for pools is a popular choice. Aluminum fences and gates are generally more expensive than other types of fencing.
Pool Fence Wilmington NC
Swimming pools are a great addition to any home, and families enjoy hours of fun and relaxation. However, having a pool also comes with a lot of responsibility, particularly when it comes to ensuring the safety of your loved ones and guests. Installing a pool fence is often required and is one of the best ways to prevent accidents and increase safety around your pool. We offer different options for your pool area, including aluminum fencing.
Backyard Fence Contractors in Wilmington NC and Cape Fear Area
Chain Link Fence Wilmington NC
Due to its affordability, durability, customization options, and ease of maintenance, chain link fencing is an attractive choice for those looking to add fencing to their property. While it can help keep your pets and family safe, it may not provide much privacy or sound insulation. There are options available to address the privacy concerns.
Commercial Fencing Wilmington NC
Although we specialize in residential fencing, we offer a range of professional installation services on commercial and municipal projects. If you have any commercial fencing needs in Wilmington NC contact us today to discuss your needs.
Professional and Affordable Fence Contractors in Wilmington NC
Frequently Asked Questions
What's the best material for my new backyard fence?
There isn't a one size fits all answer, as everyone has their own budget and personal tastes. When choosing your fence, durability is one factor to consider. Cedar, teak and redwood are known for their durable and long-lasting properties. Pressure-treated woods have increased durability and resistance to rot and bugs. All wood fences require regular maintenance to extend their life. Vinyl or PVC fences are also durable and don't require as much maintenance as wooden. Chain link fences are very durable and not affected by weather and require little maintenance.
What type of fence is maintenance free?
Vinyl fence is a great choice for homeowners looking for a fairly maintenance-free fence option. A long-lasting, easy-care alternative to wood, vinyl fence won't rot, warp, peel or splinter. Plus, you won't waste time and money on sanding, staining or painting every few years. Aluminum also requires little maintenance.
How much does a typical fence cost?
Most fences cost between $15 and $80 per linear foot installed. The price of a new installation depends on the materials you choose and the area that we are working in. If the area we are installing your fence in is challenging, such as hilly or marshy, labor costs will go up. We offer free estimates.
Will a new fence add value to my home?
A fence can add value to your home in a few ways. Adding curb appeal value if it improves the visual appeal. Private backyards are in high demand, and having a private oasis inside your fencing will potentially add additional value. Improving security may also add some value. Check with a local realtor if you are thinking of selling.
Our Process
We follow a simple process for installing your new fence. When we receive your Estimate Request, we will contact you to schedule a consultation with one of our experts to assess your property and discuss your needs. Next, we will provide you with an estimate for your installation. Once you have approved the estimate, we will order your fencing materials and schedule your installation. Ready to get started? Request an estimate today!
Get Started Today
Proudly Serving the Wilmington NC & Cape Fear Area
Our goal is for you to be 100% satisfied with our services. We strive to complete all jobs safely and efficiently.
With many years of experience, our crews work hard to provide professional and quality services.
Our mission is to provide professional fencing services to our clients in New Hanover and Brunswick counties.
Questions about your new project? Contact us today for your FREE quote for fencing.
If you need any type of fencing in Wilmington NC, don't hesitate to contact us. We offer free estimates and exceptional service.
This site is used for advertising purposes. We partner with local fence contractors.